Of all of the Rhode Island firefighter contracts that we reviewed, Johnston's municipally-run pension has by far one of the most generous formulas for determining the starting pension amount for a firefighter.
The main components of the formula are:
An average of the three highest years of salary plus the three highest years of holiday pay and the three highest years of longevity pay – this is a standard component of many contracts
Accrued sick and vacation time – which is not standard
75% of the three highest years of overtime pay – which is highly unusual in Rhode Island fire contracts.
The fact that overtime and accrued sick and vacation days are in the pension calculation caused us to worry about 'pension spiking'. Pension spiking occurs when a starting pension amount is inflated due to increases in compensation that occur in the last few years of an employee's career. Spiking leads to an inability to accurately save for an employee's retirement. In Johnston's case, we have data from one employee who worked almost no overtime in his entire career until the last three years, when his overall salary nearly doubled with the overtime compensation. As a result, although he was contributing a contractually required 8% of salary a year towards the pension, in effect he put in much less than 8% on a career basis because of the last three year's large increase in compensation.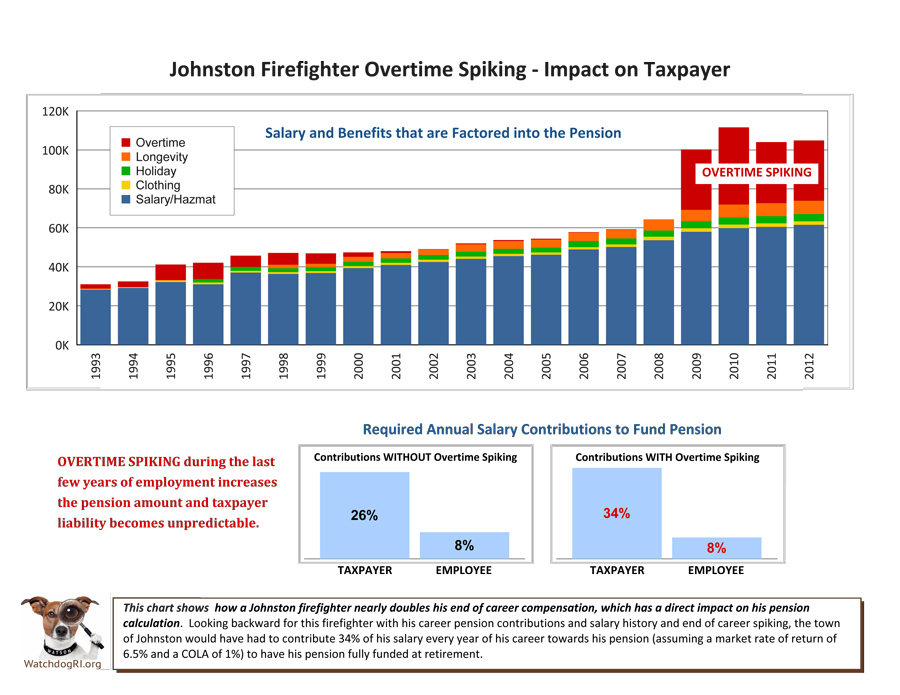 Assuming a 6.5% market rate of return on pension investments and a 1% COLA, the Town of Johnston would need to have paid in 34% this employee's pay every year of his career to fully fund his pension on retirement. At a 7.5% rate of return and .5% COLA the Town share would be 26.7% of this employee's pay.

Of course, early on in this employee's career no one can predict how many overtime hours may or may not be worked at the end of this employee's career – making this scheme not only financially reckless and impossible to plan for but also guaranteeing that the employee contributions to the pension are short changed relative to the final pension benefit.

Town contribution rates of 30% to 40% to fully fund unbalanced pension schemes like Johnston's are wholly unsustainable. In fact, historically, many towns have not made consistent and appropriate pension contributions, making a seriously bad problem much worse. This is the 'kick the can down the road' phenomenon, where all sides choose to pretend that the pension funding problem does not exist and choose to let the issue fester and burden future generations of both retirees and taxpayers.

Johnston's firefighters are able to collect nearly as much – and in some cases more – in annual pension payments the first year they retire than they received in their last year of salary. This is an unsustainable and recklessly engineered scheme that endangers the financial futures of retired firefighters and the finances of the town.

The fact that Johnston has moved newer employees into the MERS retirement system with a very different pension formula is a financially positive step, but the 30 or so firefighters still to retire under the plan described above means that future Johnston taxpayers will be paying this bill for many years to come.